MECC Trust an independent charity established in 1979.
Over 40 years we've provided vital help to local people to get their lives back on track.
Many clients are some of the most vulnerable people in Birmingham's poorest wards.
Last year, 2022, we helped over 4500 clients to get their life back on track.
Direct Action through local people is how we get things done.
If you would like to volunteer or work with us please get in touch.
Opening times: Monday to Friday 10am- 4pm
Telephone: 0121 440 3500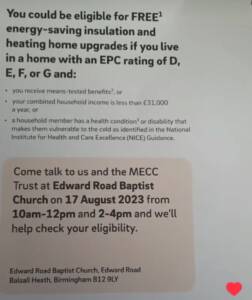 MECC had the pleasure of delivering a project aimed at the resisdents of Balsall Heath and the idea to improve the EPC in all houses we can access for free.